United States, 23rd Aug 2022, Okay Bears Yacht Club (OBYC) is a collection of generated NFTs built on the Ethereum Blockchain, paying homage to two inspiring collections, Okay Bears and Bored Ape Yacht Club. The collection consists of 7,777 NFTs featuring over 150+ hand-drawn traits and backgrounds, with a distinctive rarity.
From starting as a free mint in May, the collection has already exceeded 1.7K ETH in total volume on OpenSeas Marketplace. The project has an engaged community on Twitter and Discord, with about 9K+ active members and over 2900 holders to this day.
"Bear With Us. We are BORED, but we're OKAY." — says the official slogan of the collection.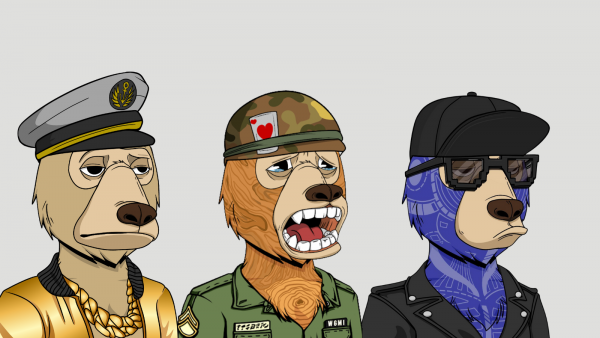 History
Okay Bears Yacht Club launched on May 18th, 2022 as a free mint and sold out shortly after. On May 20th, 2022, OBYC was officially listed on the Gem Sniper, and on the same day, it was verified as an official collection on OpenSea. The following day, May 21st, was arguably the most successful one for the project in terms of sales, with 7,861 individual deals closed. What started as an art project has blossomed into a community led movement with tons of talented people helping to build something truly special.
Not even a week after the launch, the bears announced the first real-life meetup for the community members from the US. Through this event, developers have gathered feedback and solidified their intentions to work on the community-driven network.
Since then OBYC became one of the few NFT projects fully directed by the community's council via a multi-signature community wallet.
Over months, what began as an elegantly designed NFT collection has turned into a solid, community-driven Web3 project, with multiple partnerships in progress. They include merchandise releases with Web3Wear, wallet releases with Ledger, collaboration with My Physical NFT, and more.
Architecture
The core developer team behind The OBYC NFT consists of three people that prefer to be known by their pseudonyms: Devalex, Apewhale, and Savage. Blockchain engineers and artists have been working on the initial development, community management, technical maintenance, and collaboration with other projects. The team's leading artists are currently designing the future art as well as their next NFT collection drop where holders will get rewarded.
A proper explanation of OBYC's architecture would be incomplete without mentioning 'The Council'. It consists of nine community representatives that were nominated and independently chosen by OBYC holders. Council members are responsible for facilitating effective communication between the core development team and the community at large. They help to manage the ecosystem's social activities and contribute to the growth and exposure of OBYC to the rest of the Web3 world.
Another keystone of the bear's ecosystem is the collection's discord server. It is both the main source of ideas and a discussion place about the future of OBYC. Occasional airdrops and giveaways are also happening here. Their server has also been fully audited for safety as well as having hired a Director of Security to monitor it on a daily basis.
Design
The 7,777 bear NFTs have been generated from over 150 hand-drawn traits. With that, each bear in the collection is distinct and considerably different from the rest. The features include facial expressions, items (hats, sunglasses, jackets, etc), fur traits, and backgrounds. The differences embedded in the collectibles ensure the rarity hierarchy.
While being distinct, the individual NFTs were designed in such a way that each bear is standardized enough to be recognized as part of the collection.
Roadmap
The OBYC updated roadmap contains details both about the current state of the ecosystem and the future goals of the project.
Besides creating merchandise and leveraging collaborations with various crypto projects, the OBYC has more exciting features planned.
One of the next milestones of OBYC is the launch of a brand new dapp, which will benefit the community and OBYC holders through a tried-and-true staking mechanism. The dapp's release date has yet to be specified in official announcements, but based on the Discord activity the development is already in progress. The NFT staking algorithm will allow all community members to stake their bears. It's worth noting that while purchasing the collectibles, many people were unaware of the future staking options. 
By encouraging holders to keep and stake their assets, the platform not only fosters long-term win-win relationships between the community and developer parties but also opens the door to genuine DAO governance.
As you can see from the image, there is a lot more planned than that. The following updates include the release of native tokens, a themed P2E game, and new additional collections.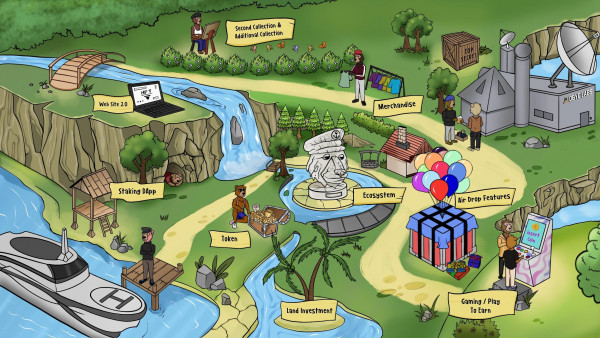 Inspiration
The goal of OBYC is to grow into a robust ecosystem with full ownership of digital assets, their IP rights,  and real-world advantages for community members. For the collectible owner, it means not only monetary rewards from various mechanisms but also real-life engagement, in-person meetings, and other OBYC club activities.
Okay Bears Yacht Club has publicly disclosed that their creation was inspired by two other iconic NFT collections: Bored Ape Yacht Club and Okay Bears.
BAYC requires no introduction. It's a world-famous collection flocked by influencers, ranking second on OpenSea by trading volume. Okay Bears have a little different story. It's still one of the most popular collections, with the same concept as BAYC, but a very distinct practical implementation. Self-described as a 'cultural shift', the Okay Bears collection aims to transcend the metaverse into the real world.
Inspired by both collections, Okay Bears Yacht Club is going to be a one-of-a-kind creative, and highly engaging ecosystem, conquering the hearts of thousands of NFT enthusiasts.
Media Contact
Organization: OBYC Labs
Contact Person: Media Relations
Email: Send Email
Country: United States
Website: http://www.obyclabs.com
The post The Okay Bears Yacht Club – Paying Homage to Two Great Projects. appeared first on King Newswire.
Information contained on this page is provided by an independent third-party content provider. Binary News Network and this site make no warranties or representations in connection therewith. If you are affiliated with this page and would like it removed please contact [email protected]